PUBG Mobile Season C2S6: Cycle 2 Season 6 has arrived! Come collect the new season-exclusive set! The brand new update of PUBG Mobile brings a new ranked season for the players. The old season will be reset on 18 May 2022 and players will be ranked down in the classic mode. Players will get some amazing and new season-exclusive sets in the game. Let's check out the details below.
Season Period: May 19, 02:00 – July 18, 23:59 (UTC +0)
Season Rewards: C2S6 Glasses, C2S6 Set, C2S6 Parachute, C2S6 – QBU, C2S6 Mask, C2S6 Cover.
Tier Rules Adjustment: Bronze tier now consists of 3 mini-tiers, and Silver tier now consists of 4 mini-tiers. No changes have been made to Gold tier and above.
Tier range adjustments in ranked Classic Mode: Bronze–Platinum, Gold–Conqueror.
Challenge Points: Some Challenge Points will be converted into Rating Points after reaching the Challenge Point limit.
PUBG Mobile Season C2S6: Cycle 2 Season 6 has Arrived
Royale Pass Month 11: Hidden Hunters
A new RP theme is starting! Favorites Crates and RP perk events will be released over time, so stay tuned!
Availability: May 19, 02:00 – June 17, 23:59 (UTC +0)
Other Improvements
Recall Mechanic – New Defeat Markers have been added to the map for teammates that can still be recalled. New Quick Messages have been added to enable better cooperation. The viewing angle on the plane has also been improved to allow you to more quickly return to battle. Only available in Unranked Erangel, Livik, Aftermath and Ranked Livik. Players also respawn automatically without needing to use a Recall Tower in the themed mode of Erangel and Livik.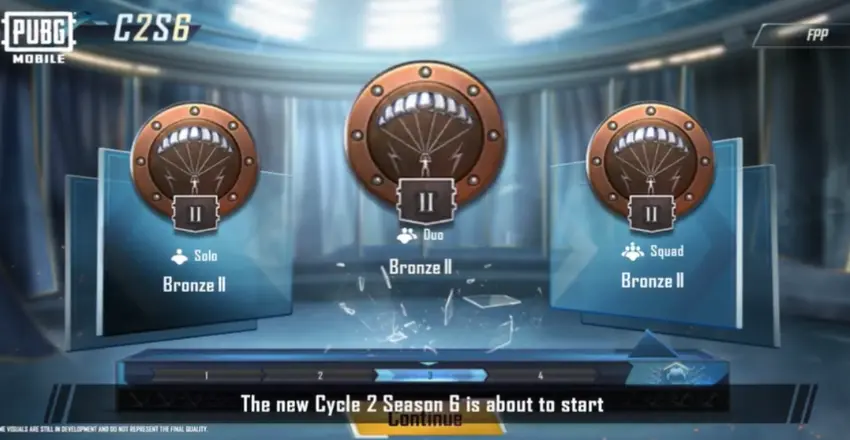 Achievements
Added new Achievements corresponding to official Livik and Core Circle-themed gameplay. Receive rewards after completing the corresponding missions.
Basic Experience
More information is displayed on the Results screen.
Improved the vehicle customization screen for better ease of use.
Adjusted the transparency of mark messages to avoid blocking players' view and aiming.
Added in-match notices when certain actions take place, such as excellent eliminations and rescues.
Marks placed by teammates who have left the match will be removed from the mini-map.
Added a feature that allows players to mark enemies behind nearby obstacles.
A parachute-closing sound mark will be shown on the mini-map when an enemy lands after jumping.